These instructions have five parts:
Logging in and getting to the editor
Go to https://www.cs.rutgers.edu.
You will see a small login button at the upper right:
That will take  you to a normal University login screen. Enter your username and password.
You will now be logged in. The login process should leave you at your page. Note the Edit tab right above your picture.
Entering content in the editor
Before adding content, you may find it useful to look at a page that has most of the options filled in. Here's an example faculty page.
To add or change content, click on the Edit tab on your page, right above your picture.
This will take you to a web form. Most of the fields are clear. They correspond to elements on your page. If you don't supply contents, that element won't appear on your page. This document will comment only on ones that won't be obvious.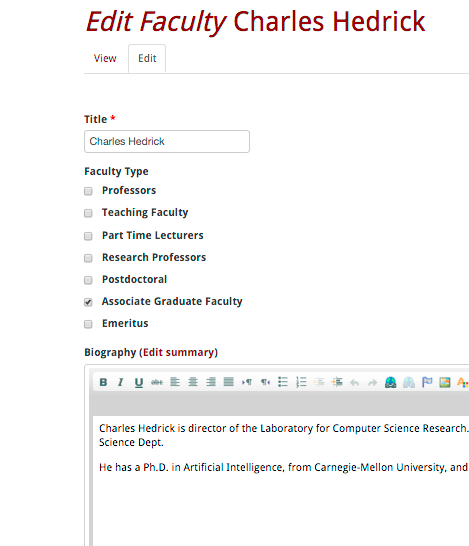 Be careful about changing the title. Other items such as publications and grants are linked to this page by its title, so if you change it those items may disappear.
Be careful about changing Faculty Type. This controls which section you are displayed in. This should generally be set correctly when your entry is created.
Publications, Grant Awards and Research. You probably shouldn't change these. They will already be set to the right values, with the possible exception of Publications.

These items don't add anything to your page. Rather, they are used to link entries made in separate forms to this page.

They have only one valid value, except for Publications (which has two). These values should be preset.
For publications, the normal value is "Publication with image". This allows you to include an image with each publication, when you enter it in the separate Publication form. If you don't want to supply images, you can choose "Publication without image" here.

Position with Links is an alternative to Position that lets you specify a link to describe the position. The link should be a URL.
Website (if you want to supply it) should be a URL for your web site.
CV should be a URL, for your CV
Teaching must match the name of a course that's known to the system. If you type a few letters and pause, a list of possible matches will be shown.
About grants and projects
Grants are shown in two places: on your page under Grant Awards, and under the main Research menu in "Aggregate Grant Awards." The same items are in both. If your grants has already been entered and you want to add or change content, find it in one of those locations and click on the title. Note that t
he "Faculty" or "Faculty Page Name" item must be filled out with your name, is it appears in the Title item of your main faculty page. If they don't match, the item won't appear on your page.
Consider creating a Project entry for major grants or sets of grants. Projects are showin on your page under Projects, and in the Research section under Computer and Networked Systems, Intelligent Systems, and Theory of Computing, as well as in the Aggregate Research Projects page. Some people may look in those areas but not in the page that lists all grants.
If your grant or project doesn't appear, look at the section "Entering items that are stored separately" for how to enter a new grant or project.
Entering items that are stored separately (research, publications, grants)
Because research items, publications and grants have several details, they are entered on forms of their own. They are linked to your page by title. That is, in order to get a Research Item to show on your page, the "Faculty" item must have your name, exactly as it appears in the "Title" blank of your main page.
To add a new research, publications or grant item, go to the top and click "Add Content". Then choose research, publications or grant.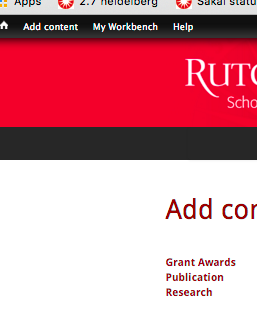 This will bring you to a form much like the main faculty form. Again, I will comment only on items that aren't clear.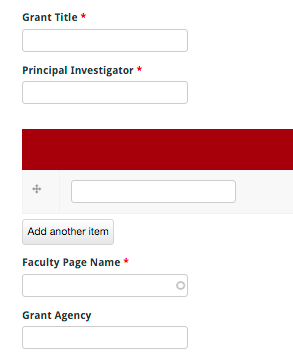 The "Faculty" or "Faculty Page Name" item must be filled out with your name, is it appears in the Title item of your main faculty page. If they don't match, the item won't appear on your page.
For Research the "Spotlight" selection allows you to designate one project as a "spotlight." It will be shown at the top of the research section with a large image.
Research Menu should be set to "Research Block Menu."
Once you're added a research, publication or grant item, you can edit it by clicking on the title of the item. That will take you to a page with a detailed listing of the item. There will be an "Edit" tabe there. At the bottom of the edit screen, there's a "Delete" button to remove it.
In this example, click on the title "my research":
That will take you to an detail page, with an Edit tab: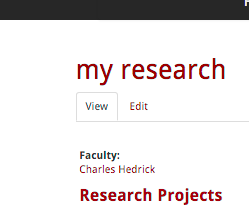 Images and Links
The editor used by this system allows you to add links and images to your text. Links can be used both to add the URL of a web page, and to add items such as PDF files.
When you click the Link icon, you'll get a popup that lets you enter a URL. If you want to specify the text to be shown, enter the text before clicking on the Link icon. Select the text, and then click the icon.
To create a link to a document such as a PDF file, type the text you want for the link, select that text, click the Link icon, and then use the "Browse Server" button. That will let you upload a file and then select it.
The process for images is similar: Click the Image icon. That will let you enter the URL for an image, or upload an image file ("browse server").
Note that the browse server window has an option that lets you resize an image. However you can also tell the browser to display an image at a different size by specifying the size on the main screen for the icon dialog.
If you have a very large image, you might want to display a smaller size on the page, with text below it saying "click on the image to see a full-size version." To do that, click on the Image icon, and then "Browse server". Upload the image. If you don't have both small and large versions of the image, you can use the "resize" button in the uploader to produce a small version. Select the small version and insert it in your page. Now select the small image, and click the "Link" icon. Use "browse server", and select the full-size image.
Submitting news and highlights
Faculty are encouraged to submit items for the news section on the front page, and for highlights. Highlights are the pictures appearing in the rotating display of the main web page.
To submit an item:
Login to the site using the login link at the upper right
Pull down the "Content" tab in the black section at the top, and choose "Add Content", then "News" or "Highlight."
The items in the form should be largely self-explanatory.
For news, you need a Title, an image, and text in the Description box. The image should be 160 by 160 pixels. Note however that the top and bottom will be cropped slightly for the small display that appears on the front page. So make sure it will look OK when cropped.
Highlights are just images with a title, so for Highlight, you only need the Title and the image. The image must by 800 by 300 pixels to fit the page format properly.
When you click save, the item will be submitted to the web committee (currently Apostolos Gerasoulis and Kostas Bekris) for review. They'll make sure everything is right, and either put it up or send you a message requesting changes.
Messages requesting changes are sent automatically by the system. They will come from drupal-admin@cs.rutgers.edu. Please check your spam for this.
If revisions are requested, the email will contain a link to edit your item. Once you have revised it and submitted it, the web committee will take another look.