Printing from iPhone/iPod Touch 3rd Generation and up/iPad
by 
Hanz Makmur
 – Dec 1, 2010
Due to issues with accountibility, this feature is no longer supported until iOS device can print with proper credential. Currently it prints as 'guest'.
If you have a personal printer connected to your own computer, you can enable Airprint capability on that printer by running a special software. There are free solution and 
paid solution.
For free solution, on a MacOS, download 
AirPrint Activator,
 and on Windows OS, download 
AirPrint Installer
. Please note that anyone will be able to print to your printer from any iOS devices once this feature is turned on without password protection.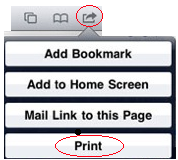 These instructions will show you how to print via LAWN from your iPhone, iPod Touch 3rd Generation and up or iPad with iOS 4.2 or better to Computer Science printers. To find out what version your device is running, in your 
Settings
, select 
General
, then 
About
. To print from iOS devices, you need to look for the 
arrow
 icon on your mobile App as shown in the picture on the right.
Touch on the arrow icon to open a menu with Print option.
Touch on the Print menu to to open the Printer Options menu.