by Hanz Makmur – Dec 1, 2010
---
Due to issues with accountability, this feature is no longer supported in most CS printer until iOS device can print with proper credential. Currently it prints as 'guest'. 
---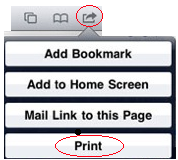 These instructions will show you how to print via Research Wireless from your iPhone, iPod Touch 3rd Generation and up or iPad with iOS 4.2 or better to Computer Science printers.
To find out what version your device is running, in your Settings, select General, then About.
To print from iOS devices, you need to look for the arrow icon on your mobile App as shown in the picture on the right.
Touch on the arrow icon to open a menu with Print option.
Touch on the Print menu to to open the Printer Options menu.