How To Print Posters To Artisan from Windows
by Hanz Makmur Mar 09, 2010 makmur @ cs.rutgers.edu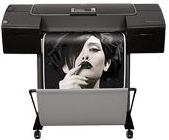 This document explains how to print posters from Acrobat Reader to a large format printer. We chose Acrobat reader because the best way to print poster is to print to PDF first. (PDF is an acronym for Printer Description File)
Rather than print directly from a composing program, we recommend creating the poster as a PDF file, and print that. This will allow you to preview the poster, and avoid idiosyncracies in the many composing programs.
If you need a freeware PDF writer for Windows, try BullZip. If you are a MacOS X user, MacOS has built in ability to print to PDF. You see this option in the print window.
Before you can print to Artisan, our HP DesignJet Z9 ps, you will need to:
A. Setup an LPR Queue on your Windows OS for artisan.

To create an LPR queue for your WindowsOS, follow Printing using LPD to CS printers on Windows and verify that:

Your LPD server is set to printserver.cs.rutgers.edu
Under Queue Name enter: artisan
If you need a driver, you can use an older driver. Select Z3200 44 PS or Z6800 44 PS driver to use with our Designjet Z9 44 printer. Note: Recent 2019 driver from HP DesignJet website is not compatible with our print server. it generates RPC call error. Until this is fixed by HP, please use an older driver.  
B. Setup Installed PaperSize for Artisan Printer Driver.

Before you can print to artisan, you need to make sure that your printer driver is set up to print to the right paper size. This is a common mistake on printing to artisan. By default all printer drivers is set to Letter size paper and not the 36 inch wide paper size installed on artisan.

Select Property of the artisan printer queue you just created. This will open the property window of Artisan.
Under Paper/Quality look at Paper Options section and set the correct paper size. The printer has 36″ wide roll paper and you should set your paper size according to your document you are printing and must not be set to Letter.


In the advanced tab, Look under Paper/Output -> Paper Size and select a size that fit your image. If you don't see it, click on the Custom icon to modify the your paper size and you can set your own size as shown here. In this example, the paper size is set to 14 x 30″



C. Set the Printing Option for Your Poster

In this example, we will use use Acrobat Reader version 9 and up to print the PDF file. In general, it is a good idea to convert whatever you are trying to print to PDF first before printing a poster size of it. This will give you a chance to review the poster before you print it.

Open your PDF file you are trying to print. Under File menu, select Print. This will open a Print dialog as shown below. Make sure that you have the Artisan Printer selected as your printer.
Set how you want the print out to print. By default, it will Shrink to Printable Area. This means, if your print out is bigger than 36×60, it will shrink it to fit the paper. If your document is smaller than the available paper, it will print whatever you have in the 36×60 inch paper. You should play with the available options to see if it is what you want to print.There are other Options you can try. For example, Fit to Printable Area and the effect can be seen in the preview window.
Make sure that the width of the paper is 36 inches .
Make sure that the Height of the paper is 60 inches.
Make sure you set a margin of at least 0.7inch or 18mm on all sides to avoid clipping.
Notice that based on your adjustment, the zoom value changes. It is important to note that if your original document is small, zooming the document could result in poor quality printout unless you use high resolution bitmaps
.
Pay attention at the Preview window which shows how your document fit in the paper available on the printer.
When you are satisfied with the preview, click the OK button to send the print job to the printer. Note that normally a whole page on the poster printer takes about 20 to 30 minutes, depending on complexity of and size of your document.
This concludes instruction on poster printing. If you have questions, please contact help@cs.rutgers.edu.