NOTE: This system is discontinued in Fall 2018 due to no usage.
Windows Remote Desktop Server (RDS)
Created 2015-08-26 by Hanz Makmur
The CS Department's desktops mostly run Linux OS for its education needs. However, sometimes the need arises for applications that run on Windows only. Since this need is rare, CS is providing a Windows Remote Desktop server named Stratus.rutgers.edu which is available from inside RUNet only. To access it from outside Rutgers you will need to connect using university  VPN first.
Stratus.rutgers.edu is only available to CS Faculty and CS majors who need to run Windows-specific applications. We currently have 25 concurrent licenses. The license on this service is limited for education purposes and is not to be used for administrative purposes.
Stratus Hardware Specifications
CPU: 4 x Intel Xeon CPU E7450 @ 2.4 Ghz (24 Cores Total)
CPU Mark: 9487.
Memory: 128GB
System: Windows Server 2012 64 bits.


 
Installed Software
Adobe Acrobat Reader, SumatraPDF, BullZip
Visual Studio 2012/2013, Windows Phone SDK 8.0/8.1, Windows Kits
Evernote, NotePad++, Libreoffice 4.x, Microsoft Office 2016
Mozilla FireFox. Google Chrome
Mozilla Thunderbird
Google Drive, Microsoft OneNote, DropBox
SSH Secure Shell Client, Classic Shell, GSView, 7Zip
Important Notes:
This server is NOT backed up.

. You should mount your cloud based storage (DropBox, WebDAV, Google Drive, Microsoft OneDrive) and save your data there.
Only CS Major or CS Faculty can access this resource.
Access is only possible from machine on RUNet.
If you need to access it from outside Rutgers, you will need to access it after connecting via Rutgers VPN. 
Connecting to Windows Remote Desktop – Stratus.rutgers.edu from Linux
The best way to connect to stratus is to use Remote Desktop Clients on Linux. There are plenty of RDP clients on Linux like Krdc, Remmina, FreeRDP and rdesktop. For this document, we will focus only on a program called: rdesktop which is commonly installed on most Linux machines.
If you are using your own Linux computer, you can install rdesktop as follow:
To install rdesktop on RHEL/CentOS Linux, open a terminal and enter:
sudo yum install rdesktop
To install rdesktop on Debian/Ubuntu Linux, open a terminal and enter:
sudo apt-get install rdesktop
To connect, simply enter from a terminal:
/usr/bin/rdesktop stratus.rutgers.edu
which will open a window below.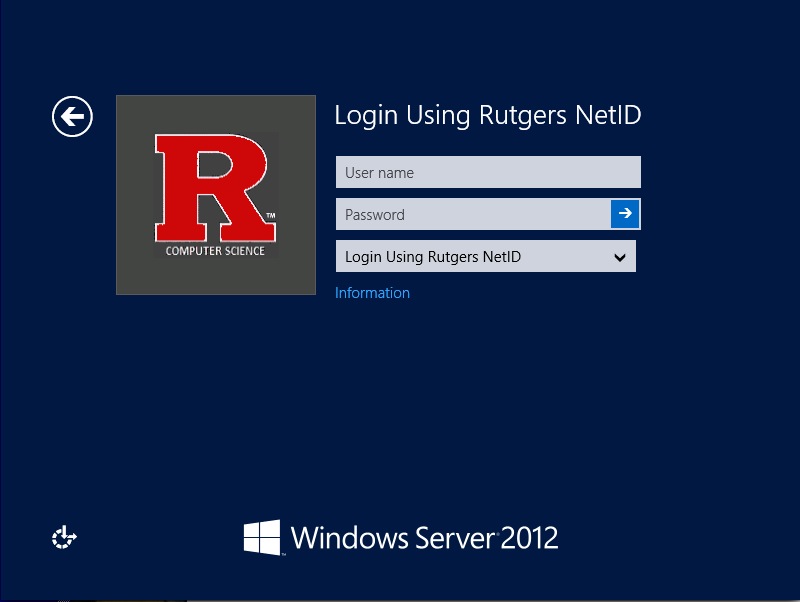 To login, Enter your NetID in the User name field and your password. Please remember Only CS Major or Faculty, you will be able to access this resource.
Please direct Questions and Problems to help@cs.rutgers.edu