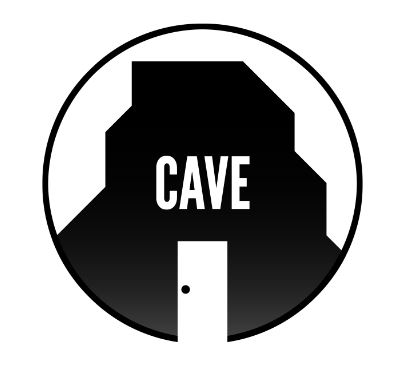 The C.A.V.E. (Collaborative Academic Versatile Environment) is located on the second floor of the Hill Bldg Annex in Room 252. Part of the Computer Science Instructional Labs, the CAVE was designed to allow students to create their own atmosphere for collaboration and group projects.
In 2023 we have Kayla Kam and Cyrus Majd as our managers, We fill out the roster with Bhavesh, Johnathan, Shaan, Pedro, Saurav, John and Michael as the crafty veterans, and Nicole as the sole Greenhorn.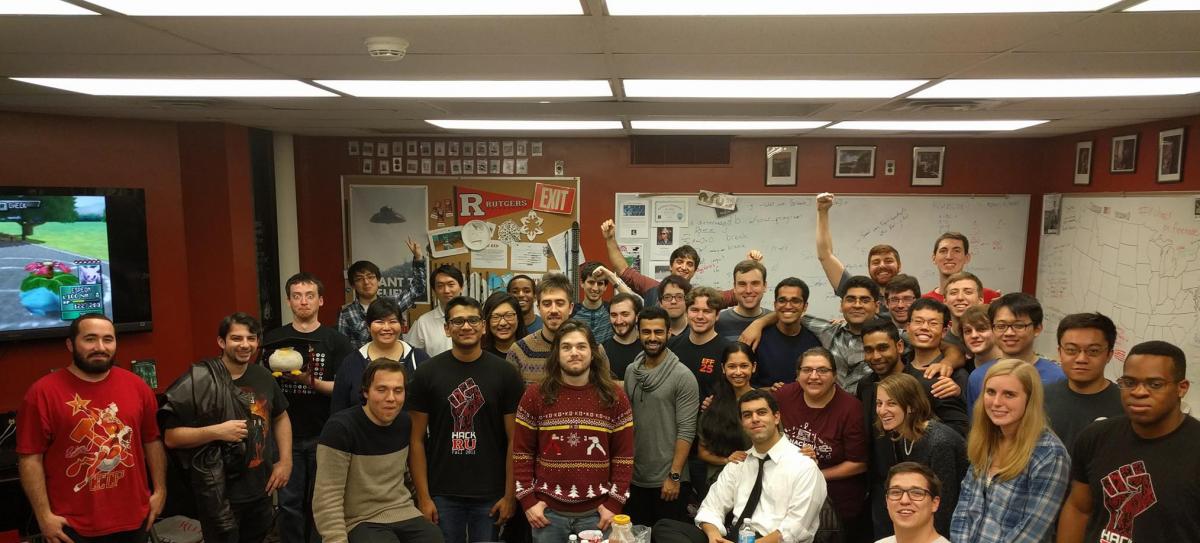 CAVE dwellers of the past and present reunite.
2017 – Second. RU has been in the top three for three straight years.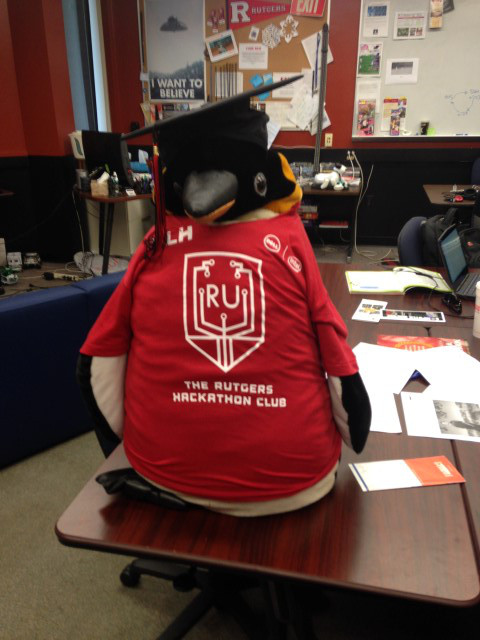 Spring 2023
Mon-Thur 1-11pm, Fri 1-6pm, Sun 3-11pm
—
The CAVE has ten iLab computers, couches, chairs, a ten person bungee conference room table, large amounts of whiteboard space and a 60″ LCD HDTV for gaming and presentations. There's also consoles for gaming, four rolling whiteboards, a projector for presentations and an eighty-eight inch SMART board. It's one part collaborative computer lab, one part CS student lounge and one part recitation/presentation space. The CAVE acts as the unofficial home of USACS, WCS, COGS, RUMAD and many more.
The CAVE encompasses Hill 252 and Hill 250. The main iLab hall now consists of the Hack-R-space, two rooms of the CAVE, the command center in 248 and the quiet Meltdown lab space in 254. The CAVE is a staffed facility and is available to the students from 1pm to 11pm Monday thru Thursday, 1pm to 6pm on Fridays as well as Sundays from 3-11.
Friday features Hacker Hour at 6pm. If you have any questions about the CAVE please drop Lars (see below for email) a line.
Also remember our other programs and spaces..
—
Spring 2023
Hill 254 and Hill 248. The iLabs includes Hill 254, the Meltdown lab, formerly a classroom to the right of the CAVE. A good contrast from the busy CAVE, it's a quiet place for students to work on their assignments or have recitations. Students (those taking a CS class or a declared CS major) will have 24/7 access to this space. 248, the command center, is located on the second floor of the Hill Annex (to the left of the CAVE) and is ideal for collaborative work as well as coursework with its 10 multi-monitored workstations.
Hack-R-space – Spring 23 the Hackerspace is back in action. (The Hack-R-space (rm 120 downstairs) available to students and faculty in order to create projects and to help bring cool ideas to fruition. 3D printing, Robotics, Oculus Rifts, Musical instruments (bass, guitar, drums), you name it and the Hack-R-space can help you make a project. )
Code Red – Run in the adjacent labs, this is a tutoring program where student tutors provide tutoring for their classmates. This program takes advantage of the drop in model (no appointments, can come in pairs or groups) and peer instruction (no grown ups allowed) in order to make the experience more inviting. We specialize in CS111 and CS112 but have provided tutoring for nearly every class in the curriculum at this point.) Details TBA.
If you identify a student who may need tutoring services please send them to Code Red or contact Lars.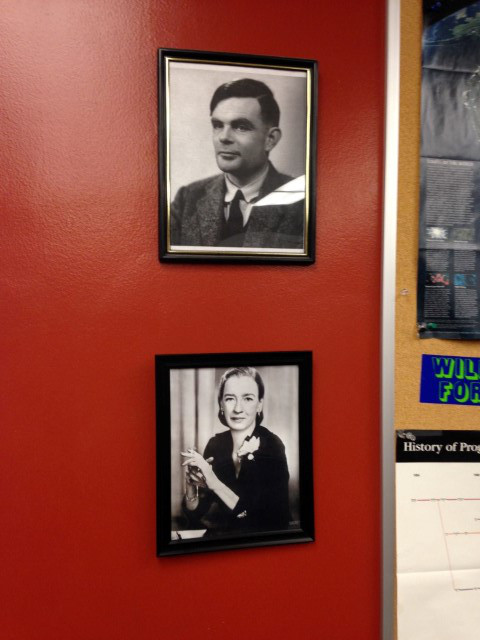 Clubs
COGS – WiCS – USACS – RUMAD – OUT in Tech – Cyber – The CAVE and the iLabs act as the official headquarters of our university clubs.
USACS – The CAVE and the iLabs act as the official headquarters of our university clubs including, of course, USACS. They meet weekly in the CAVE and are the flagship CS club at Rutgers. They organize and run the RU Hackathons (Fall and Spring) as well as other CS related events.
WiCS – WiCS is the Women in Computer Science Club. Our WCS club is one of the strongest in the northeast and is extremely well thought of at the national level as well. Ping them if you want to know what they have to offer.
COGS – Near and dear to my heart is COGS, the Creation of Games Society. They meet weekly and discuss the development of video games with the goal of teaching students the basics of game creation and to act as a hub for game development at the university. Students in COGS compete in local game jams and attend gaming events in NJ and NYC together.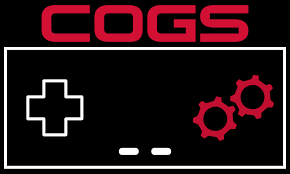 OUT in Tech – More Info coming!
RUMAD – RUMAD is the Rutgers Mobile App Development Club! They teach incoming students the fundamentals of mobile app development in a program known as The Accelerator. Mobile Apps are an intersection between the industry and the classroom, and The Accelerator was designed with that belief in mind. RUMAD motivates students to take actionable steps towards their career goals through talks, workshops, and competitions. RUMAD is an innovative and creative hub for Rutgers students to build the apps of their dreams and lifelong relationships.
Cyber – More Info coming!
—
USACS Hacker Hour
Hacker hour, presented by USACS members every Friday evening, lets students inform their classmates about APIs, Frameworks and popular cutting edge tools. Rutgers CS is now placing new graduates at Google and other top tier companies because we provide the critical theoretical background they need with their coursework as well as exposure to these modern techniques and tools. Hacker hour has become an indispensable part of the RU CS undergraduate experience and the USACS bunch is to be commended for this program. Hacker Hour happens at the CAVE on Friday evenings at 6pm. Come early, it gets crowded.
—
The CAVE is a staffed facility and is open for students from 1pm to 11pm on Monday through Thursday, 1pm to 6pm on Fridays and 3-11 on Sunday.
Always.
—
Friends of the CAVE
Visit Lori Dars and the entrepreneurial folks at CASTLE
Visit other unique collaborative spaces here at Rutgers
—
Attaboys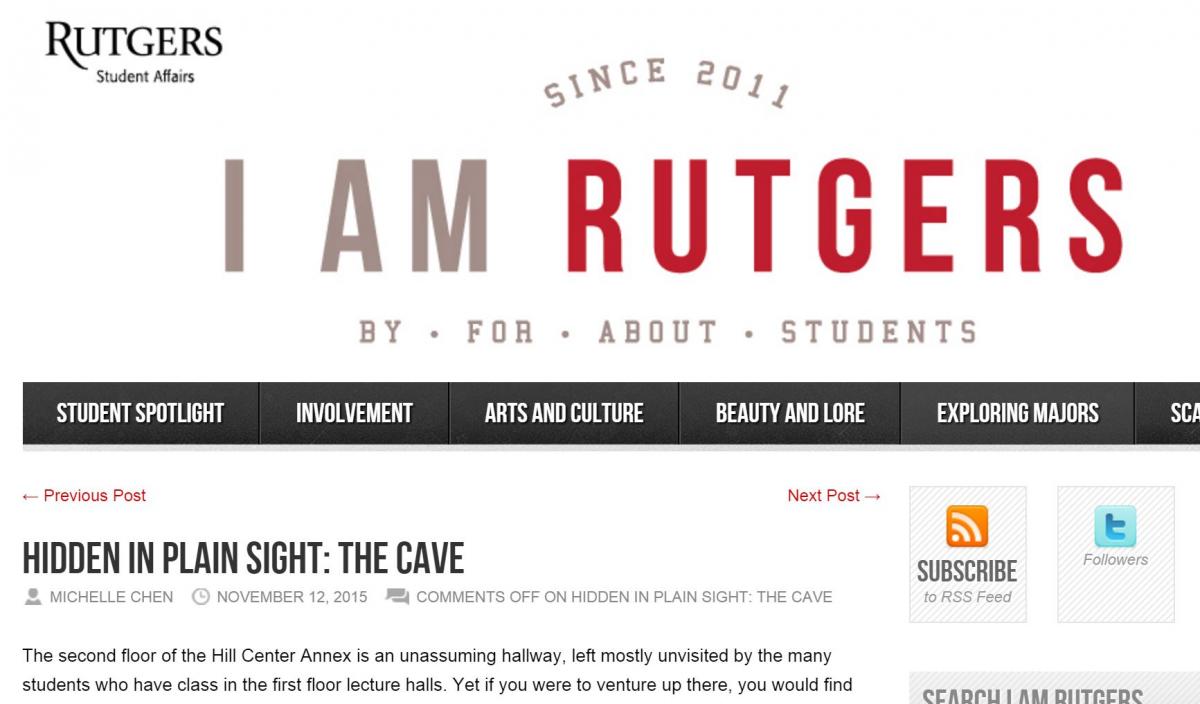 Every now and again people have kind words for the CAVE, check out the PR…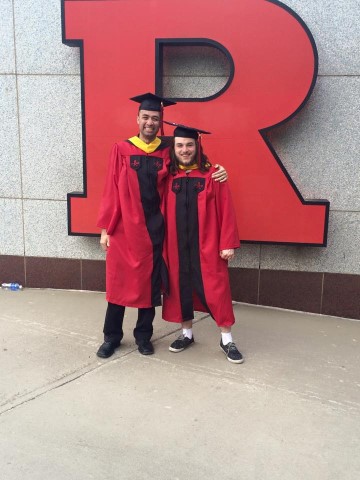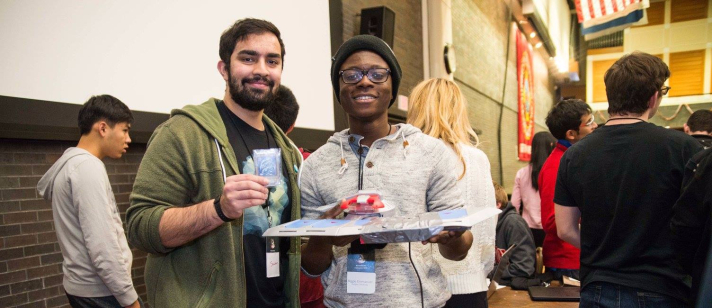 Biggie and Shahan having fun at a Hackathon.
Contact Lars Sorensen at 'biglars@cs.rutgers.edu' for weekend and morning scheduling information.