Running VMPlayer on CS Linux Machine
By Hanz Makmur Jan 2020
To enable users to learn how to setup, manage his/her own operating system, we have made vmplayer available on all
iLab Desktop Machines
.
Before using vmplayer, user must to specify where vmplayer folder should be. 
Since by default, all iLab user's home directory has 6GB quota, it is not possible to store virtual machine image in user's home directory. Luckily, there are other storage options where user's can store  his/her VMs.
By default vmplayer  uses ~/vmware as the default storage for its vm. To move the vmware folder to /freespace/local or /common/users/ storage, user should create a vmware folder link to point to  a location where storage space are available.
To use /freespace/local, do this in terminal window:
cd
mkdir -p /freespace/local/$USER/vmware
ln -s /freespace/local/$USER/vmware

Note
: Benefit of using /freespace/local is the the disk is fast but user has to use the same machine every time. Please note that /freespace/local disk are wiped at the start of each 
Spring/Summer/Fall 
semester. 
To use /common/users/, do this in terminal window:
cd
mkdir -p /common/users/$USER/vmware
ln -s /common/users/$USER/vmware

  Note: Benefit of using /common/users disk is that vmware can be used on any iLab desktop machine, but not as fast as /freespace/local
The above vmware redirection just need to be run once and your vmware directory is set.
Running VMplayer
Once connected, open a terminal window and type :
vmplayer
For first time run, vmplayer may ask user for a license. Click OK to use for free for non commercial use.
On the install window, user can use pre downloaded ISO Image. In this example, we will  install ubuntu 18.4.3 available at
  /koko/system/iso/ubuntu-18.04.3-desktop-amd64.iso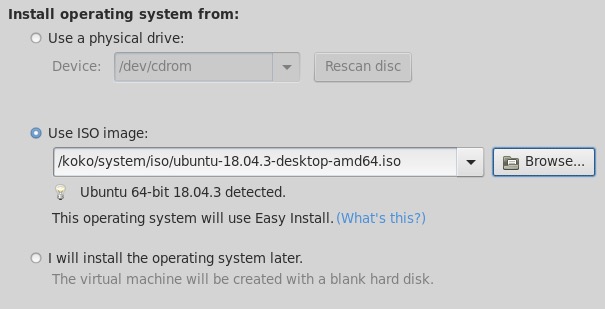 In the same iso folder, there is also netboot.xyz.iso file which allows you todo different OS and download on the fly.
See details about what OS available  in  url:netboot.xyz/faq/
After ISO selection, user just click Next until they see Customize Hardware. Click on this button to adjust memory, cpu. disk size etc. and click Finish.
On Installation, they can skip the VMware Tool by clicking Remind Me Later  button. When the installation is done, your VM will automatically run.   Don't forget to edit the VM  and remove the ISO image once you no longer need it.
Possible issues:
Key mapping has been a long time issues with VMPlayer. A solution recommended by VMWare is to add in a line in your ~/.vmware/config file that says:
xkeymap.nokeycodeMap = "TRUE"
Reminder:  Please SHUTDOWN the VM when you are not using it. All iLab machines are subject to enforced limitations.